VPF Website Feature Spotlight: VPF Policies
Publication Date
12/14/2018
When carrying out financial transactions or a reporting process, the first thing we often want to know is how to do something, but often we do not have the time to stop to find out why.
 
This is where VPF Policies come in. They serve as the foundation for understanding why we do things the way we do them, and can help explain the underlying reason for a process or procedure.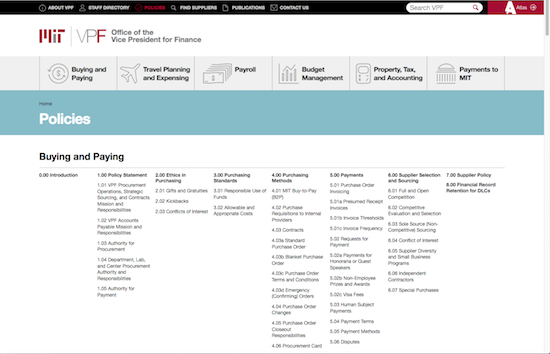 We have gathered all of VPF's policies into one handy Policy Menu, linked from the black footer on the bottom of every page. You can peruse all of them on this page and then drill down to find why you can't purchase a new MacBook Pro with your Procurement Card (see Buying and Paying ‑ 4.06 Procurement Card) or why domestic car rental insurance is not reimbursable on your travel expense report (except in Alaska). (See Travel Planning and Expensing ‑ 3.05c Car Rental.)
 
You can also find VPF Policies in the Tools Section in the lower right of every Task page. They are pre-sorted to match the six topics that form the core of the VPF website: Buying and Paying, Travel Planning and Expensing, Payroll, Budget Management, Property, Tax, and Accounting, and Payments to MIT.