VPF Point Person: Terrie Marshall
Publication Date
4/28/2017
Every day, VPF HR/Payroll representative Terrie Marshall handles questions on a somewhat delicate—and often complicated—subject: employee paychecks and paystubs. From the finer points of withholding taxes to issues related to industrial accidents and workers' compensation, Terrie prides herself on addressing all payroll issues accurately and quickly.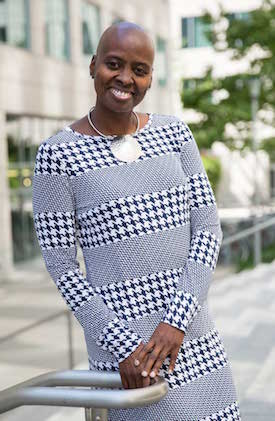 "Whether I'm responding to an employee who has come to our walk-in service in NE49 to resolve an issue, or taking a phone call or email question through HR/Payroll's request tracker, I realize these issues are complicated and need to be handled with care," she says. "People can be very emotional about their paychecks, so my goal is to understand their issues and address their questions as quickly as possible."
Terrie is new to MIT, having joined the HR/Payroll team in VPF in April 2016, but she is not new to payroll. A seasoned payroll specialist, Terrie has worked in payroll departments—from start-ups to large corporate environments to small construction companies—for more than 20 years. She describes her days at MIT as exciting and challenging, noting that every day is different. "If I had to describe it in as few words as possible, I'd say our team does customer service all day long. We know what we do is important to everyone at MIT, and we approach it that way. If I had a problem with my paycheck, I would want someone to help me as soon as possible."
After graduating from Mount Ida College in Newton with a degree in communications, Terrie had a few stints in local television working at WHDH-TV (Channel 7) and New England Cable News (NECN) as a camera operator and floor director. While she found the work interesting, the hours were "just crazy," so she decided to pursue a career with a more traditional work schedule. She moved to a small start-up in Cambridge and learned payroll on the job. She has since tackled many different payroll systems and is now learning about paying undergrad and graduate students, RAs, and TAs on top of more traditional payroll processes.
Originally from Atlanta, Terrie moved to Boston after high school and has remained a New Englander ever since. Today she is a busy sports mom, with two active teenagers involved in multiple sports. Her son plays hockey on an Elite Hockey League team and has played on the BC All Youth Hockey team. Her daughter not only runs track but is on a cross-country ski team. While Terrie spends many weekends going from one high school or club sporting event to another, she reflects on the busy nature of her life and says she feels blessed. "It's a great ride. I have two great kids, and they think it's pretty cool that their mom works at MIT."
Terrie hopes the late spring weather will give her an opportunity to get out more, explore the campus, and take in some events at MIT with her kids on the weekends. "I love being at MIT. To be in such an amazing place where people make amazing things makes me very proud and excited to go to work every day," she says. "You're among the smartest people in the world. How can that not give you chills?"
-Laurie Everett