The Sound of Crunching Numbers - FY20 Budget Process Underway
Publication Date
2/13/2019
It's February, but that crunching sound you hear isn't snow under your boots (for now). It's the sound of the Institute's fiscal officers working on their FY20 budget submissions!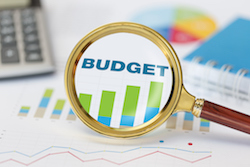 As budget preparation season moves near the end, the VPF B&FA team reminds you to reach out to your Budget Officer if you have any questions about the FY20 budget.
As a reminder, budgets for Fiscal Year 2020 are due in to NIMBUS by the close of business on Thursday, February 28.
You can find information on preparing your budget and navigating the NIMBUS system in the Budget Management section of the VPF website including the updated NIMBUS Fiscal 2020 Budget Preparation Guide and Tutorial.