See it Your Way
Publication Date
10/1/2020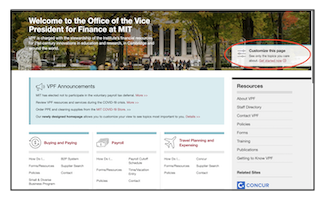 A key feature of the recently redesigned VPF homepage is the option to customize your view of homepage offerings.
For example, if your role involves Buying and Paying and Travel Expensing, you can eliminate the other four main topics from your homepage view. And you can keep Favorites and Recent Pages on your homepage, so you always see the places you visit most often. You have the option of changing these selections at any time and can always find all topics in the main menu.
See "Customize this page" on the upper right side of the homepage to set your preferences.