Right to the Source: VPF Strategic Sourcing and Contracts - Part Three
Publication Date
2/27/2020
This is the third of a four-part series highlighting collaborations between the VPF Strategic Sourcing and Contracts team and members of the MIT community. The Strategic Sourcing and Contracts teams proactively address MIT's complex purchasing needs by sourcing products and services for a wide range of education and research needs, developing and negotiating contracts, and finding solutions to complex problems. 
Managing RFPs to help bring MIT.nano to life
When MIT began envisioning a highly specialized, state-of-the-art nanotechnology research facility, it was clear that success depended on identifying and procuring the very best tools, resources, and expertise to construct and equip it.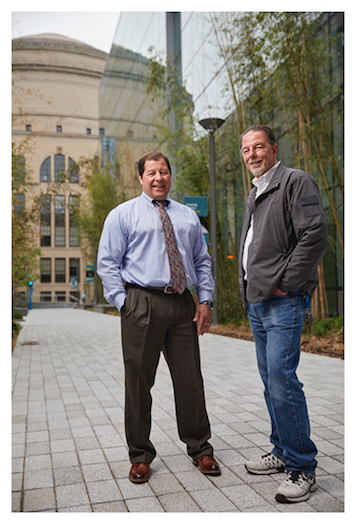 "I knew I couldn't just send out generalized RFPs," said MIT.nano managing director Dennis Grimard, who has managed numerous highly complex projects for industry and academia. He has learned that a project's success often depends on how well he is able to work with his procurement department. "To source suppliers in a meaningful way, you have to engage with sourcing, contracting, and procurement teams and use them for what they're really good at: negotiating and making sure that all the policies are followed."
When Dennis approached VPF Strategic Sourcing to ensure the bidding process for the tool installation planning and related construction management phase of MIT.nano was conducted efficiently and in accordance with MIT policies, he found a proactive approach and true spirit of collaboration. While Grimard and his team developed the technical specifications, they kept VPF in the loop to keep the project on track.
 
"Once we had all the technical input, we put it into VPF's hands. They set up and attended all of the interviews," Grimard said. "Then, they provided us an analysis so that we could summarize the advantages and disadvantages of each company. VPF Strategic Sourcing was instrumental in helping us to decide which firm was best for our needs. The value add was substantial."
 
MIT.nano opened in October 2018 and will help researchers tackle some of science's toughest challenges—and make an impact on a remarkable range of technologies including those advancing computing and communications, energy, health and health care, and manufacturing, and those contributing to building sustainable futures.
 
Grimard continues to keep VPF Strategic Sourcing and Contracts involved as MIT builds out MIT.nano's infrastructure and highly specialized equipment. Grimard was quick to note that, throughout his 40-plus-year career, he has worked with some great institutions and always tries to have good relationships with sourcing and purchasing teams. "But I have to say, this is the best experience I've ever had."
 
Learn more about everything VPF Strategic Sourcing and Contracts can offer you. And discover how you can save time, money, and effort by working with VPF at the start of your next project.
Pictured above: VPF Strategic Sourcing Analyst Jim Bagley (left) and MIT.nano Managing Director Dennis Grimard collaborated on the tool installation RFP for MIT.nano.