New VPF Website Resource
Publication Date
5/1/2018
If you are new to finance at MIT or looking for a quick reference to VPF's services to the community, check out Getting to Know VPF.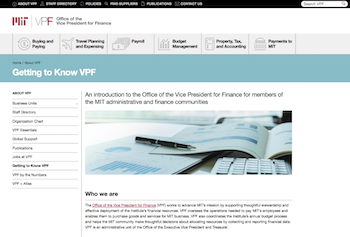 This handy reference introduces you to us—who we are and how we work—as problem solvers, business partners, and finance experts, ready to support your activities, from tracking down a payment to understanding tax and global operations and preparing for the annual budget process.
 
Scroll down to find a condensed guide to the VPF website, directing you to the features you need to know to find out anything about us.