Meet VPF's New Director of Budget and Financial Analysis
Publication Date
11/1/2021
Edward McDonough was named VPF Director of Budget and Financial Analysis (B&FA) in June, after serving as Interim Director since December 2020. He leads the VPF team responsible for administering the annual budget process for the Institute, and that provides financial analysis to MIT's senior leadership to inform decision making.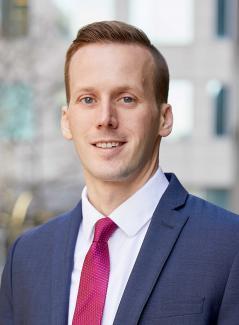 Joining VPF in 2016 as a senior financial analyst, Ed has taken on roles of increasing responsibility in areas that span the annual financial cycle. In early 2020, as he entered his fifth budget cycle, the pandemic took hold, and the B&FA team went through an unprecedented budgeting experience.
"We just about finished the FY21 budget as the pandemic hit. We basically had to start over, and in a few weeks, recreate a new budget for FY21," says Ed. "We tried to recognize the financial pressures from Covid, which were nearly impossible to predict at that time. But we dug in, worked closely with DLCs throughout MIT, and resubmitted the budget which was approved by the Executive Committee in May.  The progress we've made is a testament to all of our partners across MIT, and the strength of the B&FA team members. I can't say enough about how the B&FA team has rallied these past 18 months—they are incredible in so many ways."
"Beyond the annual budget process, we are called upon for analyses on a wide range of topics," Ed says. "Our team covers a lot of ground, and we have expertise in different content areas. Everything at MIT is complex, so the first goal is always to try to better understand an issue. Once we have clarity on a question, we dive in. The answers always come, through dialogue, partnership, collaboration, and hard work—within our team, with colleagues at VPF, and the Institute at large."
The ability to provide clear analytics on complex financial issues is a skill Ed honed while working for several years in asset management finance, most recently as a VP and senior analyst for Bank of New York Mellon (BNYM).  "I have been fortunate to have extraordinary teachers and colleagues to learn from at BNYM and MIT." As he explored a career shift to the non-profit world, Ed was drawn to MIT for its world-changing mission and "because it's MIT." Today he applies his skills to support executive decision-making at MIT. "Right now, we want to help the Institute navigate to the other side of the pandemic and be in a strong position going forward," he says.
Ed grew up in western Massachusetts and earned a BS in finance and economics from Fordham University in New York. He went on to a career in finance at BNYM in New York City and later Boston. Ed and his wife Maura, who is a teacher with the Boston Public Schools, live in East Boston. They both enjoy running, reading, traveling, and just spending time together.
Pre-pandemic, Ed enjoyed visiting the Barker Library Reading Room a few times a year, as he finds inspiration in that special place under the Dome. Reflecting on his time at MIT he says, "I'm always learning about MIT every single day, every single hour. There is always something new to learn which, for me, is what makes the job challenging and exciting."