Working Together for a Sustainable Supply Program
Publication Date
6/14/2021
VPF's Strategic Sourcing team recently conducted a competitive bid process for an office supply vendor with a focus on sustainable products. Through that process, VPF realized an increased commitment to sustainability from a familiar partner—Staples. VPF and Staples are now working together to augment our current office supply program with a stronger, measurable focus on sustainability. This updated program will begin on July 1. It will include eco-conscious delivery and a more robust selection of environmentally friendly products to make it easier and more affordable for the MIT community to shop green.
Sustainability improvements from Staples will include: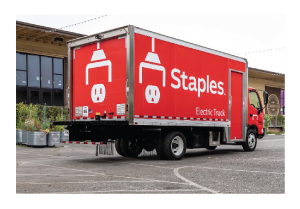 Deliveries to campus using Staples electric vehicles.
Better pricing on green products with an expanded offering—approximately 45 percent of MIT-preferred items will be eco-conscious or items with recycled content.
Sustainable shopping lists and filters to make it easier for purchasers to find sustainable options.
Pick up and recycling of used toner cartridges and pallets across campus.
Ongoing review and reporting on sustainability and purchasing trends as well as monitoring the market for new green products for consideration.
"We are thrilled to enter into this new and improved preferred supplier relationship with Staples with an emphasis on sustainability and affordability of green products," says Christina Lo, VPF director of Strategic Sourcing and Contracts. "In response to
Fast Forward: MIT's Climate Action Plan for the Decade
, we are mobilized to provide more sustainable products and services that support the community's purchasing needs. We are pleased to continue a partnership with Staples that addresses this important value."
Send your questions on ordering from Staples to Derek Welcome, VPF Strategic Sourcing Analyst for business supplies and services. If you have questions about the new sustainability options, contact Emma Homstad, VPF Program Coordinator for Small and Diverse Business.