Poster Preview
Publication Date
9/28/2017
VPF will be presenting five posters at the 2017 Collaborating for MIT's Future Poster Session.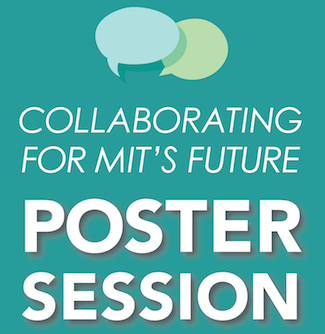 Tents and Events
Senior Strategic Sourcing Analyst Pam O'Neil will showcase the new Preferred Suppliers for renting tents for outdoor events. Joe Coen of MIT's Conference Services and Lianne Martin from Campus Activities Complex will be on hand to share their experiences hosting events on campus.
 
Travel Tools
VPF Travel and Card Services will feature a collection of web and mobile tools to support your travel needs, including ExpenseIt, Concur Mobile, and TripLink. Stop by and say hello to Assistant Director of Travel and Procurement Kathy McGrath and Travel team members Paul Andersen, Roberto Escobar, and Chrissy Mullin.
 
Tax Workshops
Every year VPF participates in Tax Workshops for students and scholars to provide them with information they need to file their taxes. Meet workshop presenters Jodi Kessler, VPF Senior Tax Manager; Chris Durham, Assistant Director of HR/Payroll and Merchant Services; Emily Cheng, Assistant Director of the International Students Office; and Keiko Tanaka, Administrative Officer from the Office of Graduate Education.
 
Sourcing Suppliers for Goods and Services
Meet with VPF's Strategic Sourcing team to learn how they can help you find the best suppliers for your needs—from lab coats to furniture—and everything in between. Stop by and meet Director of Strategic Sourcing and Contracts Christina Lo and Strategic Sourcing team members Jim Bagley, Pam O'Neil, and Derek Welcome.
 
Collaborative Poster—MITOS and VPF
The MIT Office of Sustainability (MITOS) and VPF will present a collaborative study to analyze tangible sustainability challenges and opportunities for MIT's strategic sourcing and procurement activities. Learn more from Rachel Perlman, graduate student and fellow in Materials Management with MITOS; Cristina Logg, graduate student in the Department of Urban Studies and Planning and fellow in Sustainable Procurement with MITOS; and Cecilia Talamantes, VPF Procurement Operations Manager.
Friday, October 13, 2017
1:00–3:00 pm
Media Lab (E14, 6th Floor)
Coffee and desserts will be served
The Poster Session is co-sponsored by EVP Connect and the Administrative Advisory Council