New to VPF Website: Guidance on Payment Types and Tax Implications
Publication Date
4/16/2019
VPF's Tax and Global Operations team has created a handy reference for MIT administrators who process payments to individuals beyond regular semimonthly or weekly payroll.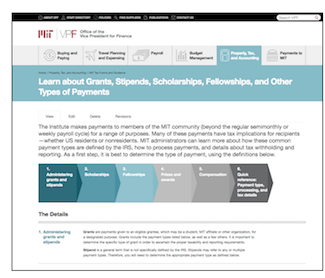 These payments may be grants or stipends and — depending on the type and purpose — may come from VPF Accounts Payable or HR/Payroll. These payments have different tax implications depending on the recipient's relationship to MIT — e.g., student, graduate student, scholar, employee, or unaffiliated and his/her residency status.
See Learn about Grants, Stipends, Scholarships, Fellowships, and Other Types of Payments on the VPF website. If you have questions, please contact Rebecca Menin in VPF Tax and Global Operations.