Our new homepage includes a collection of improvements and new features, designed to make it easier for you to find what you need to carry out financial tasks.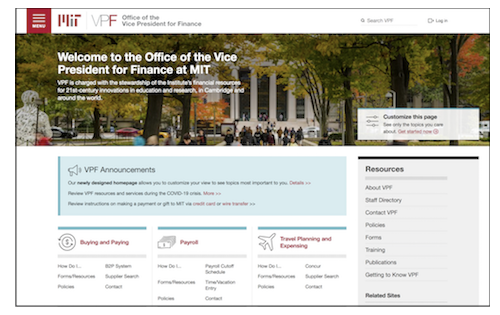 VPF worked with a user experience design consultant last year to conduct surveys and focus groups with the MIT finance and administrative community to gather feedback on ways to improve the site, with a focus on how best to maximize the home page and the main menu.
Highlights of the changes include:
A trimmed-down corner navigation menu, replacing the horizontal menu
Main topics are now front and center—with related links for forms and resources, policies and platforms—displayed in each topic box
Option to customize your homepage so that it displays only the topics you want to see
Easy access to key resources and finance platforms via righthand sidebar
A new space for important announcements
The VPF Communications team appreciates the work of the focus groups and everyone's participation in the surveys—your ideas and insights informed so many aspects of the redesign and are reflected in these top-level changes. As always, if you have ideas and feedback on the VPF website, contact us at vpfcomm@mit.edu.