VPF Training 2020
Publication Date
6/19/2018
Helping Our Community Understand the Rules and Tools of Finance at MIT
VPF recently launched Training 2020, an initiative to modernize and improve training offered to MIT's administrative community on all things finance.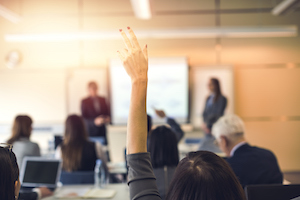 We're listening
 
Before launching Training 2020, the VPF Practice and Process Improvement (PPI) team prepared a VPF-wide training inventory to determine the condition of existing financial training offerings. We held sessions with DLCs and sought input from central administrative partners.
 
Our key takeaways from these sessions include:
There are not enough financial training offerings, and some classes are not held often enough.
A dedicated training resource is needed to update and maintain VPF's training materials.
There is a need for training specific to MIT's practices and rules

 

Our community wants the information it needs with minimum time away from day-to-day responsibilities.
 
Progress to date
 
Based on these findings, we began upgrading training materials and courses in areas where we saw immediate opportunities to make a meaningful, positive impact. These efforts included: 
 
Where else should we focus?
 
Training 2020 will continue focusing on impactful improvements to the training VPF offers our community. If you are interested in providing feedback to guide our efforts, please complete theVPF Training 2020 - Community Sign-up Sheet. Thanks to those who have already volunteered to give feedback—your input is key to creating the best possible financial training experience for the MIT community.
 
If you have questions or suggestions for VPF Training 2020, please email vpf-training@mit.edu.