VPF Meet and Greet and Eat
Publication Date
4/28/2017
Pam O'Neil, Senior Strategic Sourcing Analyst for travel, catering, transportation, and hotels, hosted a series of gatherings designed to connect MIT's meeting and event planners with the Institute's preferred travel and catering suppliers.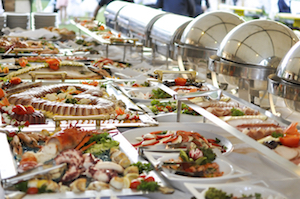 The events were held at The Royal Sonesta, Le Meridien, The Residence Inn, The Hyatt Regency, and The Marriott Cambridge—five Cambridge hotels that offer special rates to MIT. Hotel representatives provided tours of sleeping and meeting spaces, dining options, and special amenities. A rotating group of two to three preferred caterers was on hand for each event, offering samples from their catering menus, and airline, travel and rental car agencies attended to meet with MIT staff.
 
"Many of the attendees have worked with these suppliers for many years, but never had the chance to meet in person," reports Pam. "MIT staff learned more about the suppliers, and ways to realize significant savings for their events. Several suppliers made new connections and have since seen an uptick in business from MIT. I was delighted to help strengthen the relationships between our preferred suppliers and the MIT community."
 
Preferred suppliers have met specific MIT requirements and bring consistent, equitable, and quantifiable costs savings to MIT. For more information on MIT's preferred travel and catering suppliers check out Supplier Search.