VPF Expands Options for Captioning, Transcripts
Publication Date
10/1/2020
VPF Strategic Sourcing  recently added Captions, Transcripts, and Subtitlesas a new commodity to the Institute's roster of Preferred Suppliers, and signed three new captioning agencies as Preferred Suppliers. This initiative was timed to support the MIT community to meet new guidelines on captioning and accessibility.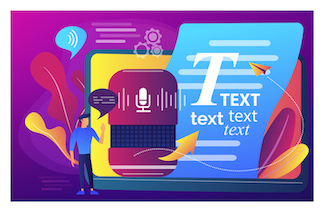 The new suppliers—Alternative Communications Services, Automatic Sync Technology, and Caption First—join 3Play Media as fully vetted captioning agencies now offering reduced rates to MIT. You can find rates and other information for each supplier on their pages on Supplier Search.
 
"As we began the Request for Proposal process, we consulted with departments who regularly publish video to gather requirements and understand community needs and preferences for captioning services," says Strategic Sourcing's Minerva Tirado. "We also worked closely with two campus experts Kathy Cahill, Associate Dean for Accessibility and Usability in the MIT Division of Student Life, and Mary Ziegler, Program Manager for Online Accessibility with MIT Open Learning, throughout this process. Kathy and Mary serve on the MIT Digital Accessibility Working Group and helped VPF teams to evaluate bids and made recommendations for finalists.
 
"After collecting proposals from more than a dozen agencies, we selected these four providers for demonstrating best practices to make media accessibility affordable, their accuracy rate, and their outstanding records on compliance," says Minerva.
 
"MIT is deeply committed to providing access to video, websites, online classes, and other materials to all audiences, including the deaf and hard of hearing community," says Kathy Cahill. "These four Preferred Suppliers will give our content producers and publishers a range of options to best suit their budgets and needs. I am thrilled to see these suppliers signed and ready to go."
 
Kathy's team in the Division of Student Life recently published the Captioning and Accessibility website, which details how to meet the requirements of MIT's recent settlement of a captioning lawsuit brought by the National Association of the Deaf (NAD), as well as ensuring best practices for video captioning and transcribing audio. See Ways to Get Your Video Captioned for details, price comparisons, and more. 
 
Contact Minerva Tirado, VPF Strategic Sourcing Analyst for professional and creative services, at 617-258-9310, with questions on suppliers, rates, and getting started with a particular supplier.
 
For questions on making your content accessible and meeting MIT guidelines, review the FAQ on the Captioning and Accessibility site or contact Kathy Cahill at 617-253-5111.