Tips for Shipping with FedEx
Publication Date
4/16/2019
VPF Strategic Sourcing offers the following tips when using FedEx to make shipping more efficient, reduce paperwork, and make billing more accurate. See the FedEx page on VPF Supplier Search for more details on the following tips: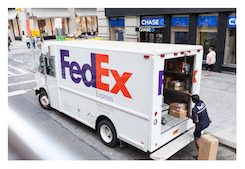 Link your Procurement Card. When you set up your DLC account with FedEx, link your Procurement Card to the account, so that you can see all of your charges immediately.
Use FedEx-supplied airbills. When you set up your account, be sure to order airbills from FedEx, which will have your department account number pre-printed on them. And once you have your airbills, keep them in a secure file cabinet to prevent unauthorized use.

 

Clear out invoices. If you receive any invoices from FedEx that do not belong to your department, send them to Derek Welcome in NE49 via campus mail as soon as possible. VPF will research and resolve these billing issues. 
Shop for Shipping. Check out

 

VPF Supplier Search

 

for a selection of shipping and mailing options, from overnight shipping to bulk mailing and more.
Questions? Contact Derek Welcome, VPF Strategic Sourcing Analyst, at 617-258-5825.