Stay Up to Date on VPF Operations
Publication Date
6/2/2020
During this time of reduced campus operations, VPF teams continue to provide support and guidance to the MIT community on all things finance.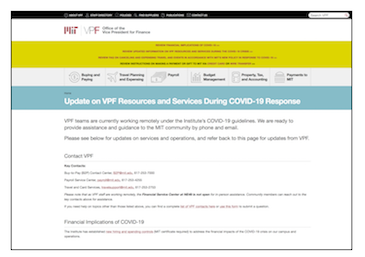 Check out the Update on VPF Resources and Services page (accessed from the yellow banner across the VPF homepage) for specific information on carrying out financial transactions, receiving electronic payments, signing up for direct deposit, processing gifts to MIT, managing equipment inventory and fabrication accounts, and receiving regular financial reports, including DTR, Summary Statements, and eDACCA reports.
 
Any changes to our routine operations and services will be posted on this page.
 
As always, feel free to reach out to key contacts on the Contact Us page, or use the form on the top of the page to submit a question to VPF. If you are not sure of the topic, choose "other" from the dropdown menu.
The VPF Communications Team will route your question to the appropriate team for a response.