Selection of Source Form — New Feature
Publication Date
10/30/2018
Based on suggestions made by the MIT community, VPF has added a new feature to the new online Selection of Source form.
To support the collaborative process associated with procuring goods and services within MIT DLCs, there is now an option to allow more than one person to work on the form. Requisitioners can assign up to two additional editors to a form by listing their MIT email addresses. These editors will have access to make updates and can download a PDF of the form.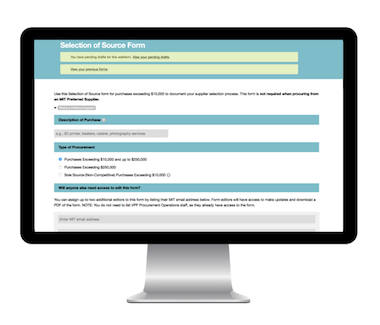 Please note, you do not need to list VPF Procurement Operations staff as editors, as this team has access to the form.
 
Questions? Contact B2P@mit.edu or call 617-253-7000.