Ordering from the MIT COVID-19 Store for Return to Campus
Publication Date
7/24/2020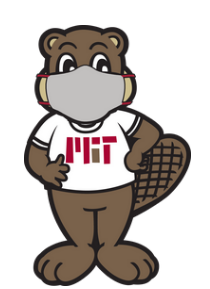 The Institute launched the MIT COVID-19 Store on B2P in June to provide items such as Personal Protective Equipment (PPE) and cleaning supplies necessary to keep our community safe. MIT has pre-ordered the supplies and is making them available to DLCs at no charge via the COVID-19 Store.
As the Institute prepares for the next phase of the campus ramp-up, MIT is providing additional guidelines on ordering these supplies.
Use of Cleaning Supplies
The cleaning supplies are for use in community members' personal workspaces as well as DLC common areas, such as conference rooms and kitchens. Individuals should regularly wipe down high-touch surfaces in their personal workspace (keyboards, phones, etc.) See the Returning to work on campus FAQ in MIT's COVID-19 Info Center for additional details on cleaning personal workspaces.
Designating a COVID-19 Store "Authorized Orderer"
All Administrative Officers (AOs) and AO equivalents are authorized to order items from the COVID-19 Store. AOs and AO equivalents can designate an additional member of their DLC as the "Authorized Orderer" who will be responsible for placing COVID-19 Store orders for all individuals in their area. Establishing an Authorized Orderer will help safeguard against multiple orders coming from one area and allow for informed oversight of orders being placed.
To designate someone as an Authorized Orderer, AOs and AO equivalents should submit the person's department, name, title, and email address to covid-store-auth-order@mit.edu.
Please note only Authorized Orderers will be able to access the COVID-19 Store from the B2P homepage. The store will not be visible to community members who are not Authorized Orderers.
Ordering Supplies on a Monthly Basis
As MIT resumes operations and activities in more areas including research, academics, and student life, there will be an increasing need for supplies. The Institute has pre-purchased these supplies and has established a regular delivery schedule with our suppliers to ensure that needs can be met across MIT. To align with this schedule, Authorized Orderers should order what they anticipate their area will use on a monthly basis.
Items Currently Available in the COVID-19 Store (Inventory May Fluctuate)
Cloth face coverings

N-95 and surgical masks

Gloves

Paper towels

Disinfectant cleaning solution

Fillable spray bottles

Hand sanitizer

Hand soap

Contactless door openers

Gowns

Floor decals for social distancing

Face shields

Lanyards and ID card holders
Placing an Order
To place an order, you must be an AO or AO equivalent or have been designated as an Authorized Orderer by your AO.

Visit B2P system at 

buying.mit.edu

.

On the B2P homepage, scroll down and click on the "MIT COVID-19 Store" logo featuring a masked Tim.

From there, you will see a list of items available to order.
Click on the item name to view the description and quantity limit. Enter the quantity and add the item to your cart.
Note:

To request permission to exceed a quantity limit, you must include justification in the requisition (e.g., you have a large number of research staff returning to campus this month and need additional lanyards and door openers).

Once you have made your selections, click on "Review Cart" (you will see this button after making a selection, or you can access it through the "Cart" dropdown in the top right corner of your screen).

Complete the General Information section. Be sure that your "Ship to" information, including the "Attention" field is correct and up to date.

In the "Billing" section, click on the magnifying glass and enter your department cost object. (Note that your department will not be charged for these items. However, this step is required to process the order in Coupa.)

Select "Submit for Approval" to place your order.

Your order will be sent to MIT Mail Services to be reviewed and fulfilled. Deliveries will be made within 2 business days.

Please note that upon receipt of the items, it is not necessary to "Receive" them in B2P.
Ordering PPE and Cleaning Supplies from other Suppliers
DLCs wishing to purchase PPE and other items independently are welcome to do so if it is more convenient and/or to serve as a supply and reserve beyond what MIT is centrally providing.
Questions?