New VPF Website Feature: Improved Search
Publication Date
2/27/2020
We recently upgraded the search functionality on the VPF website with a new, smarter search engine that recognizes parts of words and therefore produces better search results.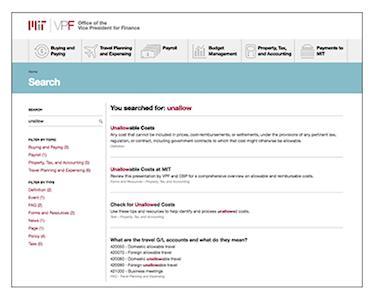 This is particularly helpful when searching for variations in financial/accounting terms. A search on "presume" will give you results for "presumed receipt" and a search on "unallow" will give you results for "unallowed" and "unallowable."
The search engine also uses phonetic matching. A search on "Sandy" will deliver results for the name Sandy, and for the Staff Appointments and Distribution report, better known to MIT administrators as SANDI.
 
Search results display a longer preview and relevant publication dates, and FAQs and Glossary entries will display the full text of the answer or definition. A summary of search results is now displayed on the left side of the page—to make it easier for you to go directly to the type of information you are seeking (e.g., person, supplier, task, news item, policy, or definition).
 
The search upgrade was completed in January following a series of focus groups and surveys with different sectors of the MIT community as we prepare for the upcoming site homepage update. As always, if you have comments or suggestions on the VPF website, contact us at vpfcomm@mit.edu.