Invoicing 101
Publication Date
11/17/2017
If you need to submit an invoice for a purchase order (PO) created in Buy-to-Pay, here are some tips to help make the payment process run smoothly.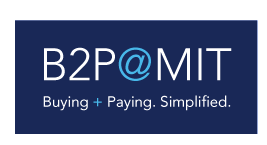 In order to pay an invoice, the PO must have sufficient funds to cover the payment on a cost object that is valid on the date the PO was created and the date of the invoice. If you need to add funds to any PO or change the cost object on a standard PO, you can submit a Change Request. If you need to update the cost object on an invoice for a blanket PO, you can do that during the invoice approval process. This can be done for single account billing or split billing.
MIT's suppliers are encouraged to submit invoices directly to Accounts Payable via the PO email that they received through the invoices@mit.coupahost.com email, or through the Coupa Supplier Portal where suppliers can view the status of their invoices.
If a supplier does not submit the invoice to Buy-to-Pay and instead, sends it to you, you can submit it for payment by sending it to invoices@mit.coupahost.com. Note that each Coupa PO creates a corresponding PO in SAP. Please do not write the SAP PO on the invoice.
To ensure the invoice is ready to be processed, please follow these guidelines:
Write the Coupa PO number prominently on the invoice.
Be sure invoice date and payment information are included, along with any special instructions.
Email the invoice to invoices@mit.coupahost.com. You can send one email with multiple invoices. Make a PDF of each invoice and then attach each individual invoice as a separate attachment. Leave the body of the email completely blank. Backup for an invoice should be included in the same PDF as the invoice.
SAP legacy PO invoices should not be sent to the Coupa email address. Please send any SAP PO invoices via campus mail to Accounts Payable, NE49-4000.
You should be able to view and approve your invoice in B2P within 3-5 business days. If you do not find your invoice in the B2P system after 5 business days, please contact b2p@mit.edu for an update on the status.
Invoices are the only items that should be sent to invoices@mit.coupahost.com. Accounts Payable can only make payments from an invoice, and will not be able to process a payment from a packing slip, order confirmation, account statement, or any other document.
MIT's standard payment terms are net 30, which means the payment typically is released 30 days after the date of the invoice. You will see the charge on your detailed transaction report (DTR); however, the payment or check number will only appear after the payment is processed.
For questions about invoices please contact the B2P Contact Center at b2p@mit.edu or 617-253-7000.  For questions regarding payments or transaction reports please contact accounts-payable@mit.edu or 617-253-2750.