Introducing the VPF Forum
Publication Date
6/21/2019
VPF is launching a new series of topic-based forums to update the MIT community on finance matters. These sessions will be held on campus and are designed to share information and gather feedback from the finance and administrative community on VPF finance operations and systems.
 
The first VPF Forum will focus on Buying and Paying at MIT and will be held on Thursday, July 25, 10:30 am-noon, in the Brain and Cognitive Sciences Building Singleton Auditorium 46-3002. Register on Atlas.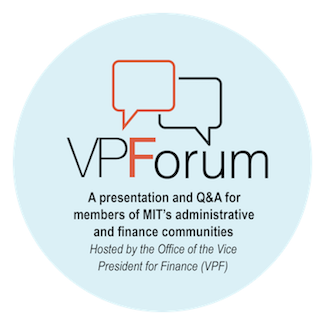 VPF teams will cover the following buying and paying topics:
Following a quick overview of the Buy-to-Pay (B2P) system, the session will provide a closer look at the

 

Recent Activity & Settings

 

functions followed by a demonstration on how to create "Views"

 

so you can customize the information that's most relevant to you and share that information with others. VPF teams then will provide updates on B2P system enhancements and the forthcoming

 

Amazon punchout catalog

 

in B2P.

 

Relatedly, there will be an update on changes to the process for

 

registering new suppliers and independent contractors

 

(see story below).
And on the paying part of B2P, VPF will demonstrate how

 

electronic invoicing

 

can support sustainability and streamline payments.
Following the presentation, VPF teams will take

 

questions and suggestions

 

on all aspects of buying and paying at MIT.