Focus on Photographers
Publication Date
11/12/2019
VPF Strategic Sourcing and Contracts just completed a major initiative to add photography as a new commodity to the lnstitute's collection of Preferred Suppliers and signed on 15 local photographers as Preferred Suppliers.
 
VPF initiated this project in response to the MIT community's increasing need for images—for websites, social media, electronic displays, and, yes, print materials. It began with an analysis of MIT's spending on photography services followed by outreach in the form of a Request for Information (RFI) to more than 100 local photographers. From these results, VPF sent a Request for Proposal (RFP) to a subset of the list who met VPF's requirements. Today, MIT has contracts in place with 15 photographers who cover the range of MIT's photographic needs and who offer negotiated pricing and terms and conditions favorable to MIT.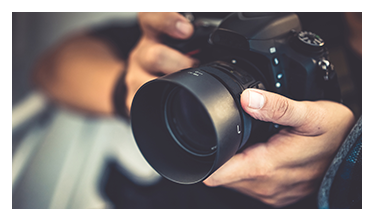 "All of these photographers are local business owners who have done extensive work at the Institute, and are known to many at MIT," says Minerva Tirado, VPF strategic sourcing analyst for professional and creative services, who led the year-long sourcing process. "We are excited to include photography in our roster of preferred commodities and make it more efficient and cost-effective for everyone to find and hire photographers, for any type or size photography project."
 
When you use MIT's Preferred Suppliers there is no need to get price quotes from multiple photographers or fill out a Selection of Source Form, no matter the cost of the project.
 
Go to VPF Supplier Search for a full list and a supplier profile for each photographer.
Questions? Contact Minerva Tirado at 617-258-9310.
 
And don't forget to smile for the camera!