Event Planning Expo Expands to Two Locations; Tim the Beaver Signs On
Publication Date
9/12/2019
The MIT Event Planning Expo is happening on Wednesday, September 18, from 11 am to 2 pm. Due to the volume of exhibitors and participants, the expo will be held in two adjacent locations, the Lobby of the Koch Institute (76) and Vest Student Street in the Stata Center (32).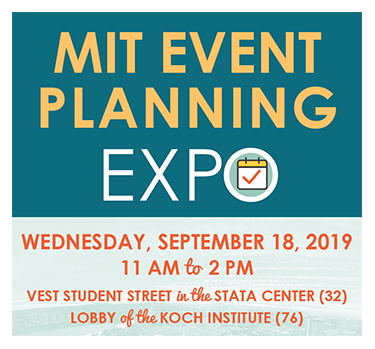 You can meet an array of companies doing business with the Institute, including designers, photographers, and printers; captioning, banner, and signage firms; and representatives from local hotels and catering companies that offer preferred pricing and other terms to MIT.
Some of the Institute's internal suppliers will also be on hand, including CopyTech, MIT Video Productions, and Audio-Visual Services. Learn more about the services these internal groups provide and meet with other campus-based departments that can make every event run smoothly by providing security, printing, video recording and streaming services, and more.
Stop by for information, meet with suppliers and enter drawings to win prizes, and pick up some fun items along the way. Tim the Beaver will be on hand for photos from 1 to 2 pm.
The MIT Event Planning Expo is sponsored by VPF Strategic Sourcing and Contracts and MIT Institute Events.
Questions? Contact Minerva Tirado, VPF strategic sourcing analyst for creative and professional services, at 617-253-9310.