Coming Soon in B2P: Find Requisitions, Find Purchase Orders, and Find Invoices
Publication Date
6/1/2017
The MIT Buy-to-Pay (B2P) system,replacing eCat, External Requisitions, and the paper-based invoice process, has redefined buying and paying at the Institute.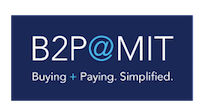 Throughout the development and rollout of Buy-to-Pay, the project team has continuously sought input from the MIT community through the B2P Contact Center, regular user check-in meetings, and targeted focus groups. Thanks to this feedback, the team has designed a series of enhancements that will:
Provide all users with functionality similar to Atlas Find Requisition and Find Purchase Order, and a new Find Invoice feature
Remove the limitation on cost object use for individuals with the B2P Departmental Reporting or B2P Central Receiving roles (users will no longer receive error messages stating they are not authorized to use a cost object)
Rename the B2P Departmental Reporting role to View B2P Transactions to clarify its intent
Provide users with the View B2P Transactions role the ability to create shared custom Views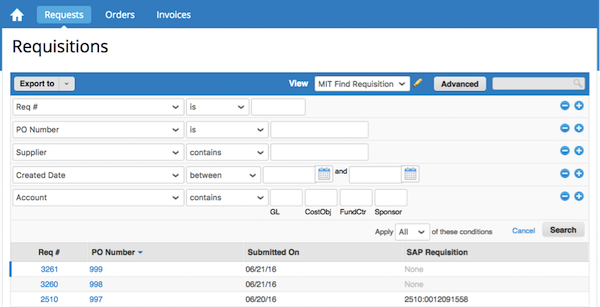 Through Advanced search, users will be able to select search criteria such as req or PO number, supplier, date, and cost object.
 
These enhancements will be available on June 5, 2017. Check the Announcements section of the B2P homepage for the most recent communication about the pending changes.
 
B2P Tips & Tricks
If you have taken the B2P Overview training class and are ready for a deeper dive, a new B2P Tips & Tricks review class is being offered in the month of June. Seats are available in sessions on June 1 and June 14.
 
This hour-long session will provide tips and tricks on using the system more effectively. The presentation will provide a quick refresher on basic tasks, address purchasing policies, and include demonstrations on:
Using Spend History to see if your requisition has been approved, ordered, invoiced, and paid
Creating Change Orders to extend blanket orders
Viewing orders for a cost object, a PI, or a cost object supervisor
Building Custom Views and generating reports
Entering receiving information
Sign up for B2P Tips & Tricks through the Atlas Learning Center.
 
Stay in the B2P Loop
Subscribe to the new B2P Announcements mailing list at to receive important updates about B2P. If you have logged into the B2P system at any time since January 1, 2017, you will be added to this list automatically – but you can opt out at any time by clicking Unsubscribe in the email.
 
Questions? Need Support?
The project team welcomes questions and feedback to the B2P Contact Center at b2p@mit.edu or 617-253-7000. For B2P resources and training, and updates on the rollout, visit https://b2ptrain.mit.edu. Community members already using the system can receive hands-on assistance by bringing questions to a B2P drop-in session, held every Wednesday from 10 am to 11 am in NE49-3098 (Little Cayman Conference Room). In-person training sessions are available for sign-up in the Atlas Learning Center.