Coming Soon – A Redesigned VPF Homepage
Publication Date
6/2/2020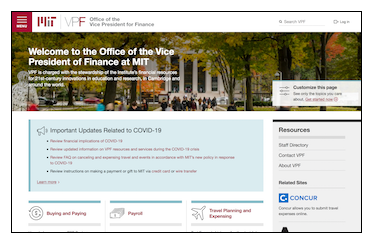 The homepage of VPF's website will soon have a new look.
VPF worked with a user experience consultant last year to conduct surveys and focus groups with the MIT finance and administrative community to gather feedback on ways to improve the site, which was launched in 2016. There was a strong preference to make the layout more practical and to enable a customized view (similar to Atlas functionality) so that you can choose to see only the topics that are relevant to your work. The result is a more streamlined homepage and easier access to the key items you need to carry out your financial tasks.
 
As always, if you have ideas and feedback on the VPF website, contact us at vpfcomm@mit.edu.