Check Box 7: Reminder on FedEx Billing for Shipments Sent to MIT
Publication Date
9/12/2019
If your department is paying for a FedEx package to be shipped to MIT, the sender should fill in Box 7 on the U.S. Airbill or International Air Waybill with your department's MIT FedEx account number.
FedEx U.S. Airbill
Bill Transportation Charges To:The sender should check "Recipient" and fill in your DLC's MIT FedEx account number to ensure the transportation charges are billed to your specific MIT FedEx account.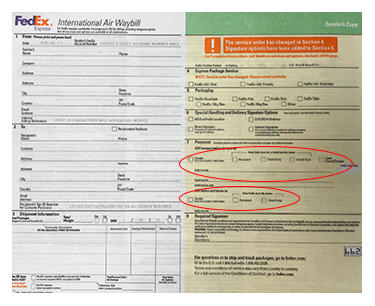 FedEx International Air Waybill
Bill Duties and Taxes To: If a person or organization is sending a package to your department from an international location, you
should be aware that customs fees for international shipments are charged by the country of import and are not covered by transportation charges. Therefore, when you provide the sender with your MIT FedEx account number, remind the sender to also complete the "Bill Duties and Taxes to" portion in Box 7 by selecting "Recipient" and reentering your account number.
For any questions on FedEx, contact Derek Welcome, VPF strategic sourcing analyst for business supplies and services, at 617-258-5825.