In Case You Missed It: VPF Forum on Travel Expensing
Publication Date
12/19/2019
The VPF Practice and Process Improvement (PPI) team hosted a VPF Forum on Monday, December 9, on Travel Expensing. VPF Director of Financial Operations Kathy McGrath introduced the session, announced a new online Travel Training Program, and discussed the benefits of using The Travel Collaborative, MIT's Preferred Travel Agency.
 
Travel Manager Paul Andersen made a presentation on Concur Detect, a new feature that uses artificial intelligence to improve the workflow and process for reviewing travel expense reports, and addressed common questions on expense reporting. Chrissy Mullin, staff accountant on the Travel team, shared some travel expensing tips—including how to reimburse a guest for travel expenses—and reviewed airfare policies for international travel.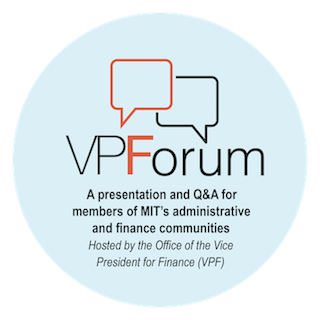 "We are enjoying hosting this Forum series on topics that address the wide range of finance processes and policies and highlights new technologies and services at VPF," says Pam Schickling Buckley, VPF senior director of PPI, who serves as emcee of the VPF Forum. "At this second VPF Forum, we hosted a wonderful audience that braved the pouring rain to attend. Thanks to all of the attendees for their thoughtful questions and feedback. We love hearing from you, and better yet, we love meeting you in person. As always, send us your questions or suggestions for Forum topics and other training needs to vpf-training@mit.edu."
 
A PDF of the presentation on Travel Expensing is available on the VPF website.