Behind the Scenes at VPF: Processing Your W-2 Form
Publication Date
1/11/2018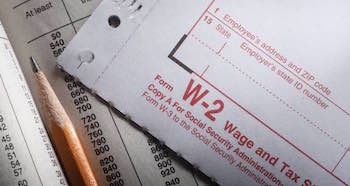 By the last week of January, more than 25,000 MIT and Lincoln Lab employees will receive a W-2 Form, (either electronically on Atlas, or a paper copy in the mail) detailing their taxable wages, federal, state, Medicare and Social Security taxes paid, 401k contributions, and employer-paid medical insurance premiums. While this form always seems to arrive somewhat magically and with little fanfare, a great deal of effort goes into this annual event, with teams from VPF, IS&T, and MIT Mail Services working behind the scenes to ensure all of the data is correct and the forms get into the mail or onto Atlas with time to spare.
 
Envelopes are ordered well in advance and are tucked safely away in WW15—in a climate controlled room at MIT Mail Services—to keep them from moisture that could cause them to seal on their own. Special paper is ordered and sent to IS&T's printing room, where it will be tested to ensure the data lands in the right boxes on the form. The data itself has been scrubbed, tested, and verified.
 
Guiding the team throughout this complex project is Chris Durham, VPF Assistant Director of HR/Payroll and Merchant Services, who is about to take on his sixth year managing this end-of-year process. "In some ways, it is just a continuation of the work we do each quarter—remitting taxes, filing reports, and reconciling MIT payroll reports," says Chris. "But the fourth quarter is a little different, as we work on some minor year-end adjustments and the process to get the W-2s printed and then mailed or posted on time."
 
Chris credits Dimana Macdonald and her team members Emily Do, Janice Headley and Bistra Bojkov for overseeing tax filings and reconciliations and quickly addressing any issues as they arise. Laurie Farinella and Lilian Garcia process all payrolls and complete the electronic file transmissions to the Internal Revenue Service and the Social Security Administration. Kristin McCormick and Nicole Valente support the payroll processing by validating and scrubbing data to ensure accuracy. Marsha Dailey works all year with international employees and students to see that they are taxed correctly and receive the correct tax forms.
 
"The HR/Payroll team works closely with Leslie Wright, VPF Consulting Business Analyst, and liaison to IS&T, who knows everything about the whole process from end to end," reports Chris. "Our partners at IS&T, led by Frank Quern, ensure the systems runs smoothly, and Nathan Thaler and Andy Kalerdarian manage the print area where the forms are printed without a hitch. Finally, Deborah Puleo and her team in Mail Services receive the printed W-2 Forms and execute the final steps in the process, including operating the machine that folds and stuffs the envelopes and applies postage."
 
The VPF HR/Payroll team is busiest during late December and the first two weeks of January when final tests are underway. Sometime in mid-March, the team will take a moment to celebrate getting through another year of filing tax forms. By then, they will be preparing to file first-quarter tax returns for the next year.
-Laurie Everett