B2P: A New Way to Buy and Pay
Publication Date
3/17/2017
Six months into the phased rollout of the Buy-to-Pay (B2P) system, 117 departments, labs, and centers (DLCs) are now creating requisitions, approving orders, and processing invoices through B2P! The remaining 55 DLCs will be brought onto the new system in the last phase of this rollout, throughout March and April. For updates on the rollout, as well as other B2P resources and training, visit https://b2ptrain.mit.edu.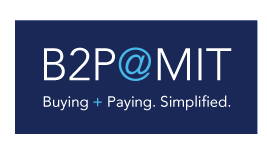 What's Included in B2P?
B2P includes MIT supplier catalogs, external requisitions and invoices, replacing eCat and the External link on Atlas. B2P does not currently include the Procurement Card, Requests for Payment, or Internal Providers, all of which continue to use existing processes.
 
Community Engagement
This month marked the beginning of a series of focus groups on key topics of importance for community members, including Financial Review & Control (FRC), Departmental Reporting, and B2P Catalogs. Throughout the project, the team has engaged with the MIT community regularly to seek input. Feedback from recent focus groups and communication with current users continues to inform the team on refinements and improvements to the new buying and paying system and processes.
 
Catalogs
In the past few weeks, the team has added catalogs for Beckman Coulter and Westnet, which are now available under the Catalogs dropdown on the B2P homepage. The final two supplier catalogs (PerkinElmer and Lonza) will be added shortly.
 
Subrecipient Awards
Subrecipient awards (subawards) are processed through the B2P system, which removes a step from the existing process by electronically routing subaward requisitions directly to the Office of Sponsored Programs.
 
Process Change: New Supplier Request
When creating a B2P requisition for a supplier that is not in MIT's records:
In the Supplier field, enter "New Supplier"
In the Comments field at the bottom of the Cart, enter the supplier's name, email, and phone number (remember to click Add Comment to save)
Optionally, attach W-9/W-8 and New Supplier Registration Form (helps to streamline process)
This change replaces the previous process of leaving the Supplier field blank.
 
Process Change: Invoices
Invoices from suppliers should be sent to invoices@mit.coupahost.com, with the PO number included on the invoice (you can use Adobe Acrobat Pro, available for download here, to type the PO number on the PDF invoice). This change replaces the previous process of sending B2P invoices to apscan@mit.edu.
 
Questions? Need Support?
The project team welcomes questions and feedback to the B2P Contact Center at b2p@mit.edu or 617-253-7000. Community members already using the system can receive hands-on assistance by bringing their questions to a B2P drop-in session, held every Wednesday from 10 to 11 am in NE49-3098 (Little Cayman Conference Room). In-person training sessions are available for sign-up in the Atlas Learning Center.